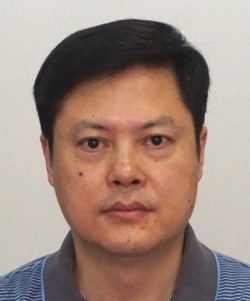 Associate Professor
Phone: (027)87792432
Email: mblu@hust.edu.cn
Academic Areas: Biotechnology
Research Interests: Biotechnological pharmaceutics, Fermentation Engineering
Academic Degrees
PhD in Biotechnology, School of Life Science and Technology, HUST, China, 2000
MS in Biotechnology, Department of Bioengineering, HUST, China, 1989
BS in Biomedical Engineering, Department of Bioengineering, HUST, China, 1987
Professional Experience
Associate Professor (1996-present), School of Life Science and Technology, HUST, China
Postdoctoral Research Fellow(2002-2004), National University of Singapore
Visiting Scholar(2001-2002), Michigan State University, USA
Research Assistant(1999-2000), Hong Kong Institute of Biotechnology, Hong Kong, China
Lecturer (1993-1996), School of Life Science and Technology, HUST, China
Assistant Lecturer (1989-1993), School of Life Science and Technology, HUST, China
Selected Publications
1. Wang HB, Xu RG, Yu LJ, Luo J, Zhang LW, Huang XY, Zou WA, Zhao Q, Lu MB. Improved beta-carotene and lycopene production by Blakeslea trispora with ultrasonic treatment in submerged fermentation. Z Naturforsch C. 2014, 69(5-6):237-244.
2. Wang HB, Luo J, Huang XY, Lu MB, Yu LJ. Oxidative stress response of Blakeslea trispora induced by H₂O₂ during β-carotene biosynthesis. J Ind Microbiol Biotechnol. 2014, 41(3):555-561.
3. Liu HF, Li W, Lu MB, Yu LJ. Pharmacokinetics and risk evaluation of DNA vaccine against Schistosoma japonicum. Parasitol Res. 2013, 112(1):59-67.
4. Wu W, Lu MB, Yu LJ. Expression of carotenogenic genes and astaxanthin production in Xanthophyllomyces dendrorhous as a function of oxygen tension. Z Naturforsch C. 2011, 66(5-6): 283-286.
5. Wu W, Lu MB and Yu LJ. A new environmentally friendly method for astaxanthin extraction from Xanthophyllomyces dendrorhous. Eur Food Res Technol, 2011, 232(3): 463-467.
6. Lu MB, Zhang YE, Zhao CF, Zhou PP, Yu LJ. Analysis and identification of astaxanthin and its carotenoid precursors from Xanthophyllomyces dendrorhous by high-performance liquid chromatography. Z Naturforsch C. 2010, 65(7-8):489-494.
7. Zhu L, Liu HF, Lu MB, Long QK, Shi YE, Yu LJ. Construction, purification, and evaluation of multivalent DNA vaccine against Schistosoma japonicum. Parasitol Res. 2011, 108(1):115-121.
8. Zhou PP, Lu MB, Li W, Yu LJ. Microbial production of docosahexaenoic acid by a low temperature-adaptive strain Thraustochytriidae sp. Z105: screening and optimization. J Basic Microbiol. 2010, 50(4):380-387.
Courses Taught
0701021: Molecular Biology
0707191: Experiments in Fermentation Engineering
Project
1. High Intensity and High Density Fermentation of L-Lactic Acid. The National High Technology Research and Development Program of China (No. 2008AA10Z339), 2008-2010
2. Expression of Schistosoma japonicum vaccine in transgenic plants and evaluation of its immune effect. Natural Science Foundation of Hubei Province, 2005